For Levi's, the radical reframing of the 501 jean by BBH rejuvenated the venerable brand and made the jean trendy again.
I remember pestering my mum for jeans. She took me to Millets where the jeans were piled high and sold cheap. In the early 1980s, jeans were dominated by a few firms – Lee, Lee Cooper, Wrangler and Levi's but there was no sense that any of these brands had any meaning or looked particularly different. Wrangler had Ws stitched onto the rear pockets but that's about it.
Advertising, sometimes produced on cardboard cutouts around the denim section, tended to feature cowboys mooching about around campfires with horses.
Trendy new brands and fly by night fashions like snow washed, acid washed and ripped were rife but, apart from these novelties, jeans were generally frumpy, dowdy and something your dad might wear. Not fresh and exciting like the New Romantics skipping about on Top Of The Pops.
One of these brands, Levi's, knew that its target audience of teens and young adults wasn't buying their jeans and their business seemed to be in terminal decline.
Levi's actually invented jeans in the 1870s. Originally overalls or dungarees, jeans were tough - made from tent canvas reinforced with copper rivets. The classic 501 trousers we know today were first produced in the 1890s and became the blueprint for hundreds of new brands, all of whom competed directly with Levi's.
Jeans wearing gradually became widespread in America. During World War II the supply of jeans was restricted to those in the war effort, which in turn introduced them to a wider audience. Then, in the post-war era, various teenage subcultures like the rockers, greasers and bikers all adopted jeans.
Fast-forward to the 1980s and Levi's fortunes looked dire. Jeans were not trendy. Your dad might wear them while changing the oil.
Levi's had already closed a significant portion of its manufacturing and contemplated a 'doomsday scenario' where jeans were no longer fashionable and the remainder of its business would evaporate. In the US, Levi's advertising continued to focus on an unappealing view of jeans featuring cowboys and people on tractors – just like all the other jeans manufacturers.
In Europe they decided to try something different.
They employed young upstarts BBH, formed in 1982 by former Saatchi and TBWA creative lead John Hegarty with John Bartle and Nigel Bogle. Their first ad was for Levi's black jeans.
That first ad prefigured the eventual direction of their relationship. The outdoor ad showed a herd of white sheep moving in one direction. Moving against the throng, clearly contrasted, is a single black sheep heading in the opposite direction.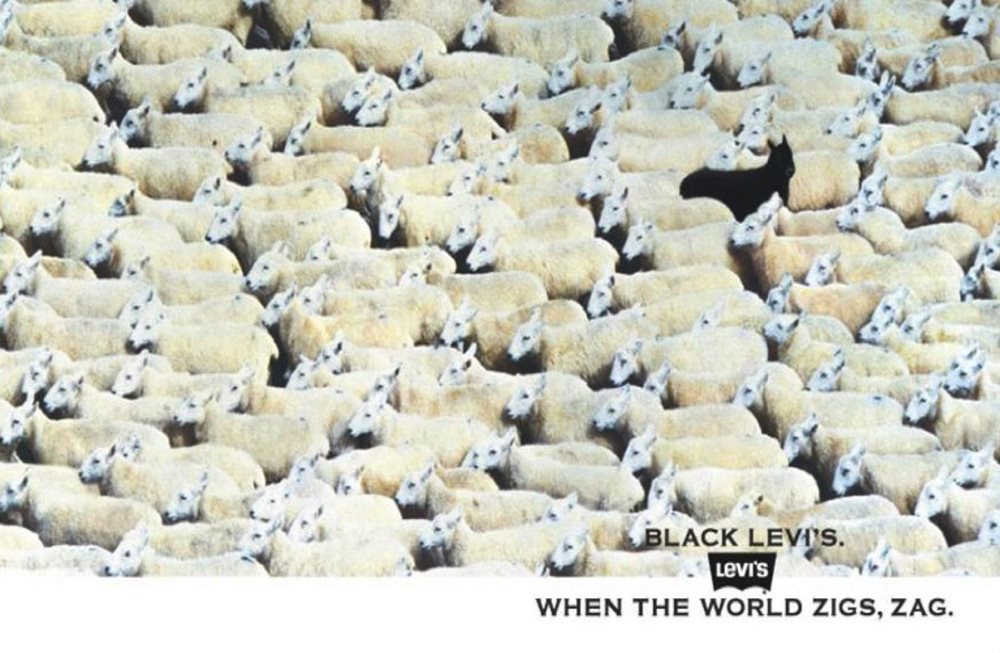 The ad featured the line 'When the world zigs, zag'. It was different – a success. It's worth noting that BBH adopted the line for itself and the theme of the black sheep as its logo.
BBH's follow-up ad tapped into what they knew young people thought was cool – a kind of idealised 1950s or 1960s America where the sun always shone and Motown ruled the radio. The new ad for the 501 jeans launched on Boxing Day 1985. It's safe to say the ad lives up to the title 'iconic' and caused an immediate sensation.
Set in a laundrette, a bequiffed Nick Kamen saunters in, removes his Ray-Bans and fills one of the machines with rocks. He then removes his t-shirt and his jeans (to reveal boxer shorts) and chucks them into the machine too.
The rest of those in the laundrette gawp and chuckle. Kamen then sits back to wait for the cycle to finish, all over Marvin Gaye's I Heard It Through the Grapevine. The end line reads; 501 The original shrink to fit jeans.
The ad sold many things – heritage, style, cool. And vanloads of jeans.
More importantly, it reframed how people perceive the Levi's brand and gave a definitive answer to the question: what jeans to buy when next in Millets? It moved people along a mental road so that there was no longer a choice about which brand– it was Levi's.
Before the Laundrette ad, it would not be unusual to agonise over which jeans to buy. Are they the best? Who can tell? Now there was a definitive answer. The ad gave customers the drive to seek out Levi's – which were already available everywhere - and what Daniel Kahneman calls a 'System 1' decision: automatic and without thought. Levi's.
But in reality, you couldn't buy the jeans in Millets because you couldn't buy the jeans anywhere. There was a run on Levi's and they had sold out everywhere. Such was the ad's impact that it had to be pulled so that production could keep pace with demand.
The ad also triggered a sudden interest in boxer shorts, which were not even readily available at the time, and Ray-Ban sunglasses, that endures today (arguably the Tom Cruise film Risky Business had already started a trend for Ray-Bans, but this ad cemented it).
Nick Kamen became a star in his own right, launching a singing career with a hit single.
The ad drove the retromania seen in films like Back To The Future, also released in 1985. More retro films followed like Peggy Sue Got Married and Platoon, and old 1950s and 1960s songs entered the charts, like Jackie Wilson's Reet Petite which spent several surreal weeks at number 1.
It's also why Levi's, and particularly the 501, remains iconic today.
Of course, Levi's has had bumps along the way – a dive thanks to the 'Clarkson effect' as the professional miserablist was rarely seen out of Levi's, giving the brand a bad look.
But the change is also instructive – Levi's competitors are no longer the cheap lookalikes but the expensive, 'designer' brands, that are hipper and made with hipster denim. These high-value brands are now the ones that chip away at Levi's.
Thanks to the Laundrette ad, Levi's and really the whole sector was reframed for a generation. People generally now know that Levi's is 'the original' and jeans are in every wardrobe. Quite an achievement for an ad that used Behavioural Economics to produce a stunning outcome.
Interested in this topic? Consider the IDM Award in Behavioural Economics. Learn how unconscious biases can be harnessed in your marketing, including the theory and practice of assembling simple experiments and applying the results.
Did you find this blog useful?
At the IDM we are passionate about educating marketers and providing resources to help advance your career.
If you are interested in enhancing your CV and upskilling, browse through our wider range of marketing courses and qualifications; from one-day short courses to post-graduate diplomas.
Our learning and development team will be happy to advise based on your needs and requirements.