If you have a problem, if no one else can help, and if you can find them, maybe you can hire the A-Team.
2017 is.... let's just say it's full of challenges. 
Leaving aside fears around World War III, this year marketers are coping with splintering digital landscape, dropping open rates, ad blockers, GDPR, rampant bots, content shock, automated everything, while customers now expect Private Jet levels of service at EasyJet prices.
Marketing technology is bringing waves of change into teams who must grapple with new tech and new processes without forgetting the fundamentals of good marketing. 
Building the A-Team
To tackle these challenges, marketers are making tough decisions on what they can and can't afford. What structure is the most efficient use of your resource and where does ownership sit between marketing and other departments? When is it right to tackle problems in-house and when to outsource to agencies?
Like any successful team, it will take a collection of individuals with complementary skills who are united with a common goal. 
Ignoring the all-male cast, here are some of the core roles that any team large or small will need to get through the year ahead: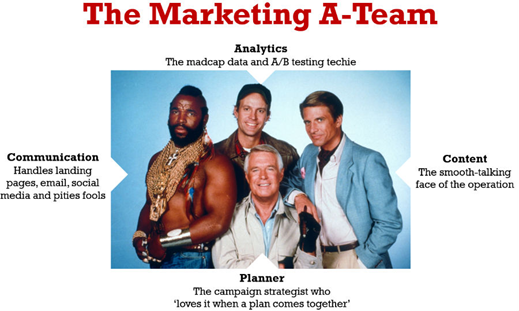 What does a high-performing marketing team look like for your business?
 
IDM and Technology for Marketing are asking for your views on the best way to structure marketing teams in 2017.  
This short survey asks: 
Are you structuring your team around generalists or specialists?
Where do skills like SEO, content, marketing automation sit in your team?
How important are agencies in the year ahead? Are you re-evaluating spend?
Please share your views in this short survey.
Your responses will be treated anonymously and will become a useful guide to help marketers in considering how to structure their team in the year ahead. 
As a big 'thank you' we will send you a free copy of the final report once finished.