The winner of the IDM Student Marketing Competition 2016 was announced last night at the IDM Summer Networking evening, which took place at London Belgraves Hotel.
Team Digithink from Bournemouth University, made up of Jeevan Shahi, Jacqui Forgham, Ellie Barker, Maddie Osborne, Rachel Poole and Sophie Knowles, were up against over 100 other competition entries. The competition was sponsored by Virgin Money Giving who tasked students with putting together a 3-year plan to grow the brand's market share.
The winning team claimed victory after a live pitch in front of the senior marketing team at Virgin Money Giving and other leading marketing professionals.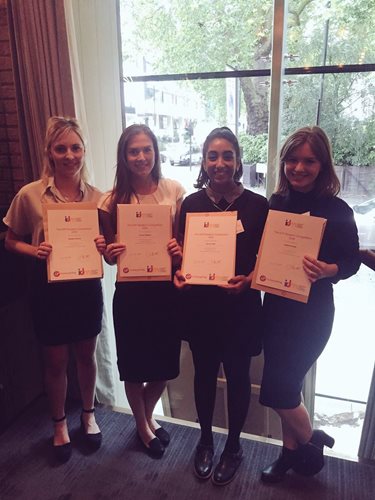 Amongst the judges was Jo Barnett, Executive Director of Virgin Money Giving. Commenting on the winning entry she stated that "It was the team's unique response to the brief that sparked the most debate among the judges".
As winners, Team Digithink received a £1,500 team cash prize, work experience with the Virgin Money Giving marketing team and an invitation to an exclusive dinner with senior executives from Virgin Money Giving.The IDM Student Marketing Competition is now in its 20th year. The competition gives university students the chance to work on a challenging and real-life client brief. The process offers students priceless experience and for the finalists, the opportunity to network with leading marketers and be in with a chance of winning the top prize. The brief is also used by lecturers across the country as a valuable teaching aid on marketing and business courses.
The 2017 competition will be sponsored by The Economist and the brief will be made available online later on this year.
For more information please click here.
Did you find this blog useful?
At the IDM we are passionate about educating marketers and providing resources to help advance your career.
If you are interested in enhancing your CV and upskilling, browse through our wider range of marketing courses and qualifications; from one-day short courses to post-graduate diplomas.
Our learning and development team will be happy to advise based on your needs and requirements.