Learning at Work Week (LAWW) is an annual celebration of learning in the workplace, launched 2009 and taking place every May.
As part of LAWW, the IDM hosted an hour long free session for staff at Newton Europe with Findcourses.co.uk.
The session, "Personal Branding in a digital world", took Newton Europe staff through the process of building a digital presence to meet, learn and share with others, led by the IDM's 2017 Educator of the Year and multi award-winner Steve Kemish, who has worked in digital marketing for more than 20 years.
Steve usually delivers full-day training courses, so this bitesize session is something he found quite different and exciting. "A crunched one hour session to the Newton Europe staff was a great idea. We took a longer one day programme aimed at marketers and converted it into a session that every department could get some value from, taking them through the key stages for building and managing your personal online brand.
"They responded really positively and got involved with the session which made it enjoyable and rewarding for us all. A great way to kick off Learning at Work Week," he said.
According to Danielle Moffat, the Digital Learning Specialist at Newton Europe, the staff thoroughly enjoyed the session. "Steve's session today was brilliant. We had about 30 of our people from the Business Support Team attend his talk. The content was broad and the audience varied - with people attending from our HR, Recruitment, L&D, Marketing, PA and IT teams - but Steve connected the dots with lots of examples and anecdotes that made the topic feel relevant to everyone in the room."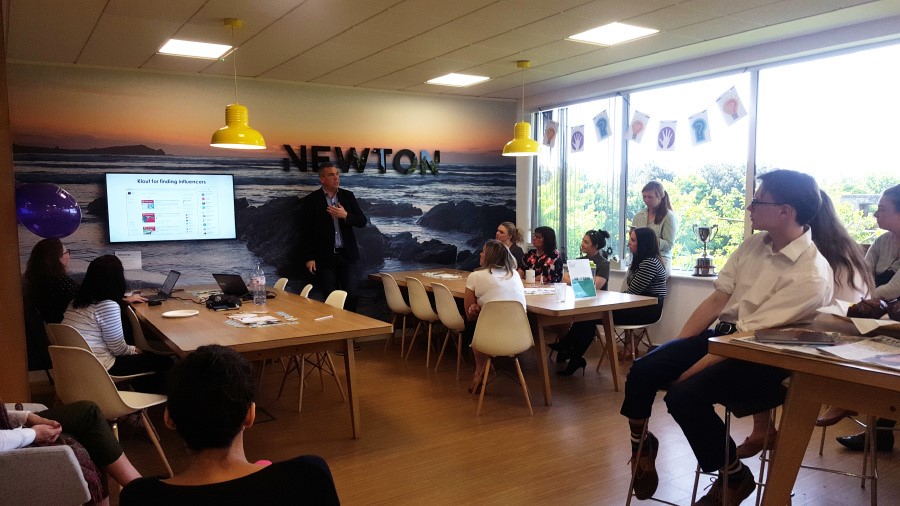 The session also prompted discussion within the team, said Danielle.
"One key revelation that came out of the session was the idea that having an online presence isn't something that's only important for the people in our company who are engaging in business development activities and directly selling our product. It's important for us in the Business Support Team to have one too as it's a great recruitment tool for attracting the best people to our team too," she said.
One Newton Europe attendee said "It was a brilliant session with very interesting content. Steve was a cracking speaker, providing a wealth of insight in an engaging, light-hearted way."
The IDM offers bespoke in-house digital marketing training courses for businesses and their staff. If you are interested in booking a course for your team, or would like to know more about what we offer, get in touch on 0208 614 0208 or email corporatetraining@theidm.com.
Did you find this blog useful?
At the IDM we are passionate about educating marketers and providing resources to help advance your career.
If you are interested in enhancing your CV and upskilling, browse through our wider range of marketing courses and qualifications; from one-day short courses to post-graduate diplomas.
Our learning and development team will be happy to advise based on your needs and requirements.