Search online for 'Customer Experience – B2B trends' and you'll find CX is being touted as 'the new battleground'.
We marketers do tend to over-dramatise, but there is no denying that looking after your customers generates loyalty and can substantially increase value. Harvard Business School reports that a 5% increase in customer retention can deliver between 25% and 95% higher profits.
In their B2B report, Merkle asked its customers what factors kept them loyal. Top of the list came "high quality product or service" and let's never pretend that this isn't the primary focus.
Next, however, came:
Customer service and support
Reputation
Attention and understanding of my needs and good communication
So, we all know WHAT we have to do, but HOW do we do it? How do we meet the needs of our customers with our proposition and interactions? How do we create trust, value and thus loyalty?
The key is a clear articulation of your customer retention strategy.
Welcome to the 8 steps to improving loyalty and profitability

These steps are provided in a specific order to define your business offering and then match the most relevant part to the right customer, using a structured consideration of content, delivery and approach.
Step 1: Objectives, targets and success measurements
What are your business objectives and how do these translate into contributions from each team? How are you measuring success?
What is the value of each individual customer? Not all clients should be treated equally.
Step 2: Solutions and Services. Can you describe your value proposition?
Do you know what your customers care about most?
What differentiates you from your competitors?
Step 3: Know your customers and know what makes some different from others
How well do your account plans support growth or track revenue and product use?
What are the roles, responsibilities, ambitions and pain points of your key contacts?
These first 3 steps provide the clarity of your business needs, your offer and your customer profiles to enable you to differentiate and manage your customer base. It's the foundation for building relevance and value into your contact and communication planning.
Step 4: Relevant messages
Meet the specific needs of your customers, at this moment in their relationship with you.
Don't just talk about products. Add trust and credibility with thought-leadership, industry knowledge, events, case studies, etc.
Steps 5 and 6: When and how best to contact your customers
Understand the customer journey and map your contact strategy against each customer's life-stage.
Develop account-based approaches to customer relationships – structured reviews, regular personal contact, valuable interactions (based on the customers' needs not yours).
It's here that marketing automation really comes into its own.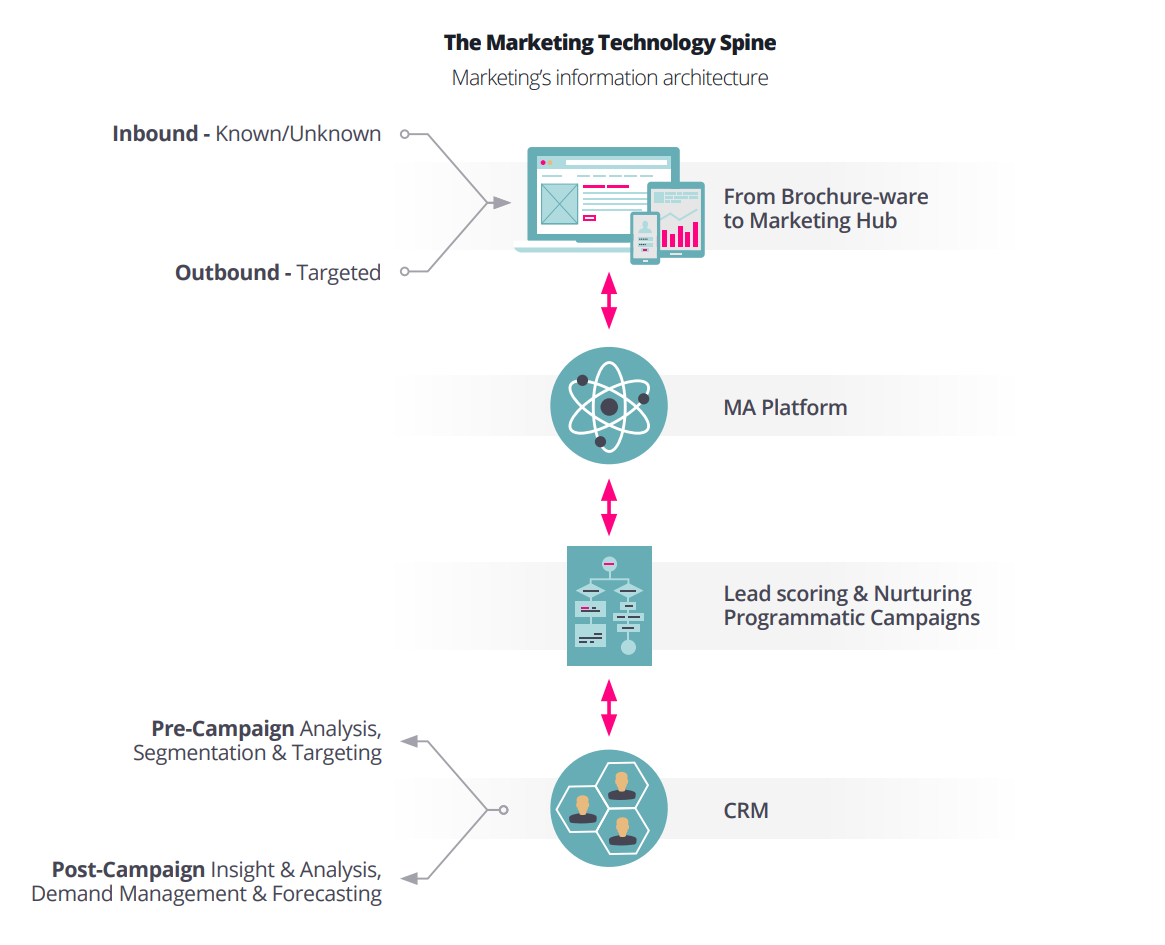 As this diagram from CleverTouch Marketing shows, marketing automation provides the spine of information architecture informing marketing activity, lead scoring, insight and ultimately the ability to truly measure return on investment.
Step 7: The customer voice – take your customers' pulse
Do you know if you're meeting customer expectations? Ask for and measure satisfaction.
In addition to what you're told, listen to what's being said about you elsewhere from social listening, 3rd-party review sites and industry forums.
Step 8: Become the 'trusted advisor' – trust as an equation
No competitor can copy your relationships. Build loyalty on a foundation of trust.
A 'trusted advisor' framework seeks to gain trust through a mix of credibility, reliability and 'give.' It is lost if there is a perception of self-interest. How would you be judged today?
Businesses I've worked within using this approach agree that taking small logical steps in a particular order really helps. I'm confident it can provide you with the foundation for implementing successful customer retention strategies that nurture a customer loyalty that will improve your revenue and profitability.
Learn more about this topic with the IDM's 1-day Customer Retention training course.
Did you find this blog useful?
At the IDM we are passionate about educating marketers and providing resources to help advance your career.
If you are interested in enhancing your CV and upskilling, browse through our wider range of marketing courses and qualifications; from one-day short courses to post-graduate diplomas.
Our learning and development team will be happy to advise based on your needs and requirements.