Want to get real results from your social media ads? These tips and tricks will transform your paid media on Facebook, Instagram, Twitter and LinkedIn overnight.
Digital titan Gary Vaynerchuck tells his adoring crowds that right now we're living in a bountiful time of opportunity where the most under-priced ad product is Facebook (and Instagram) advertising. He tells marketers that today, if your livelihood depended on selling, you would put all of your money there.
Is he right though? Whilst brands large and small are doing just that, there are still many who have dipped their toe in without tangible success.
So what are the keys to getting positive ROI from social media advertising? Here are my tips, based on years of experience across the key networks.
1. Massively Multivariate Testing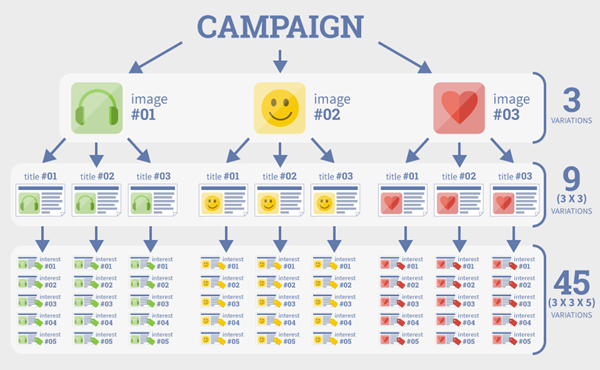 (Via AdEspresso)
We're not talking about A/B testing here, but rather A to Z and round again a hundred times. As a guideline each ad variant needs around £20 to generate statistically relevant results (use this handy tool from Kissmetrics to test this).
So if your initial ad budget is £10,000 you should run at least 100 ad variations, which means you would get a good idea of what's working after spending £2k, though I would personally run as many as 250 variants, spending the first £5k on testing those, and then my remaining £5k on what's working best.
Whilst Facebook is improving its split testing tools, I use AdEspresso, a popular third-party tool which allows you to very quickly create a high volume of ad variants, meshing combinations of creative, copy, placement, audience targeting and custom audiences. Assessing ad performance and switching off under-performing ads is a cinch too so well worth the $49 per month to get started.
If 250 variants sounds scary think about this simple example - 5 images x 5 copy variants x 5 audiences x 2 placements (Instagram and Facebook Mobile Feed for instance) = 250.
Seeing how easy it is to get to that, over the course of a year you should be running thousands of ad variations to learn what works, where and with whom.
2. Don't Focus on Click-Through Rates
The digital marketer's obsession with CTR is perhaps a vestige of a bygone age, where we had far less data on what people did post-click, relying on CTR reports from barter deals with other sites and display ad platforms to gauge performance.
Whilst this metric is important for campaigns where all you want is a click (rare), in most cases you're more interested in what people actually do after that and therefore the quality of that traffic, over volume.
In social media advertising, this is especially important as different placements have wildly different CTRs.
Take the right-hand column ads on Facebook or LinkedIn. These placements are the original ad spots on these platforms, with users having long ago become blind to them, resulting in rock-bottom CTRs. However, those prospects who do actually click these ads can be very high-quality. Think about how interested they must be in your ad to actually put their mouse cursor anywhere near the gutter of ads on that right-hand side!
So that's why there is arguably only one metric that really matters today - CPA (cost per acquisition). Also referred to as cost per conversion or cost per result, when you're optimising a social ad campaign you're looking for the variants that drive the lowest CPA, and I see time and again that this doesn't correlate with CTR.
In a recent example for a client of mine, we can see how CTR and CPA are loosely related but by no means linearly. The lowest and highest CTRs don't come from the ads with the lowest and highest CPAs (note: volume is lower on high CPA ads as they were throttled or paused due to their poorer performance).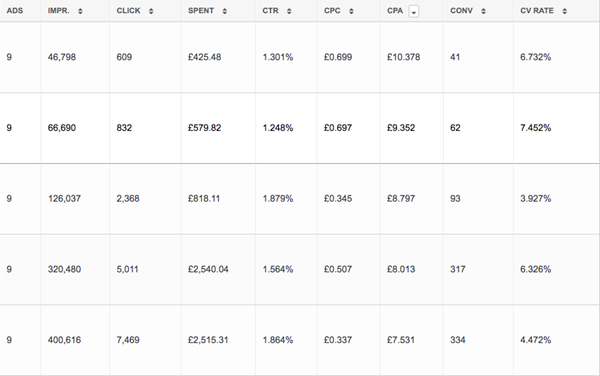 (Via AdEspresso)
There are many factors here such as conversion rate, CPM etc but I would argue that you should always look to the CPA to make decisions, as this is what the social platform algorithms do, seeking out the most likely converters. The other numbers are just nice to know.
3. Decide on a 'Conversion' Action and Track It, Whatever You're Selling
I commonly hear from business owners and marketers who aren't in e-commerce, or directly driving sales on a website. Their concern is that they don't have a conversion action to track, but I always urge them to decide on one, however hard that seems. It may be a brochure download, filling a contact form or merely visiting a specific page on your site but I would hope you can attach some sort of monetary value to that action based on some simple maths.
For example:
you know that for every 100 visitors to the specific page on your site about self-build eco homes, someone calls on the phone or visits your showroom (1% enquiry rate)
it takes 10 calls or visits to generate a sale, on average (0.1% conversion rate overall)
you make £30k profit on each sale
in theory you can afford a maximum CPA of £30, and you'll aim to drive this down consistently over time
All the key social ad platforms offer tracking codes which can be set up to sense any action on your website, be it a purchase (or step thereof), a click, a form submission or page visit. This data is then fed back into your ad reports automatically, allowing you to focus on the ads that are driving real business results, not just clicks and engagements.
Here's where you'll find out more about those tracking codes:
4. Emojis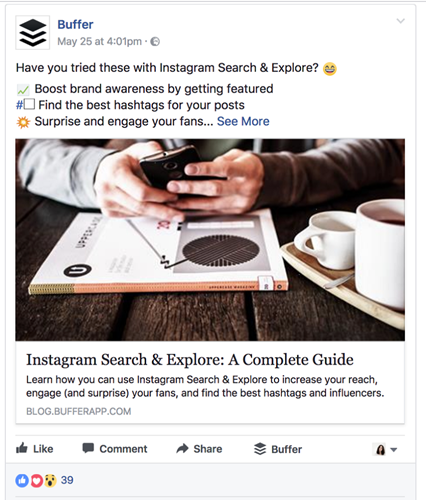 (Via Buffer)
Many of us are still wary of using emojis in corporate comms, and that's understandable. But a social ad exists in a highly conversational space where fun or witty use of emojis is encouraged.
They can even add structure to your copy, as in the Buffer example above, so they're not just for making your posts fun and light.
Sales software company Leadsbridge tested this theory, running identical ads with and without emojis, and found that the CPA was less than €7 with emojis and over €39 without. Not a conclusive scientific test but as we've covered, it's our responsibility as marketers to test lots of different approaches that resonate with our prospects in different ways. Some people respond to emojis and we want those customers at a profitable CPA.
To explore emojis, their meaning and history check out emojipedia.org (worth doing so you don't go using when you didn't mean to!).
5. Custom Audiences - Have You Tried Them All?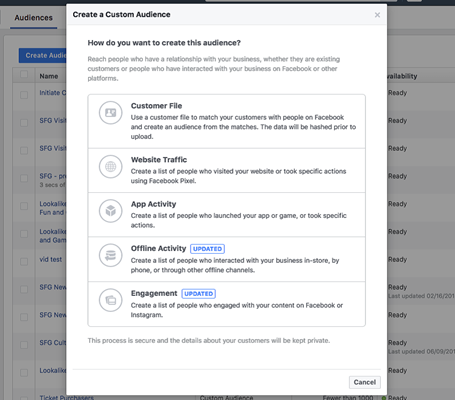 (Via Facebook Ad Manager)
If you've run social ads you've very likely tried custom audiences - perhaps your email database or your recent website visitors are seeing your ads. But have you tried some of the lesser-known custom audiences? Facebook are releasing new options here all the time so it's worth keeping your eye on.
Lookalike audiences on Facebook and Instagram are a great place to start branching out. They are based on one of your existing custom audiences and are the 1% - 10% of any country's population that look the most like your source custom audience. Great for expanding your reach.
Additionally, test some engagement-based audiences i.e. people who have interacted with your pages or content on Facebook or Instagram. These audiences contain people who have done things like watch your videos a certain % of the way through, visit your Instagram profile, send you a message. Pretty much anything you can imagine, and it's a great way to follow up successful content with an ad to those who engaged, for instance.
6. Write Great Copy
Easier said than done I hear you cry. Actually, for social ads it's really simple. Keep it short, grab attention and try a few very different approaches that appeal to different emotions. Bear in mind that with high-volume testing you can afford to try some pretty adventurous copy approaches.
A good place to start is testing these four approaches:
A straight-to-the-point product benefit statement e.g. 'the best coffee machine you'll ever use'
An emotionally-led statement about the role of the product in your life e.g. 'isn't life too short for bad coffee?'
A fear-of-loss statement e.g. 'we're almost sold out of our first edition, thanks to everyone who supported our quest to create the world's greatest coffee machine'
Something a little leftfield, as an experiment e.g. 'Hot pot of coffee!' - quote from Anchorman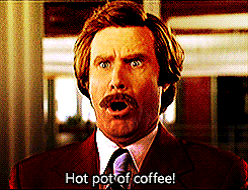 (Via Giphy)
7. Keep Images Colourful and Simple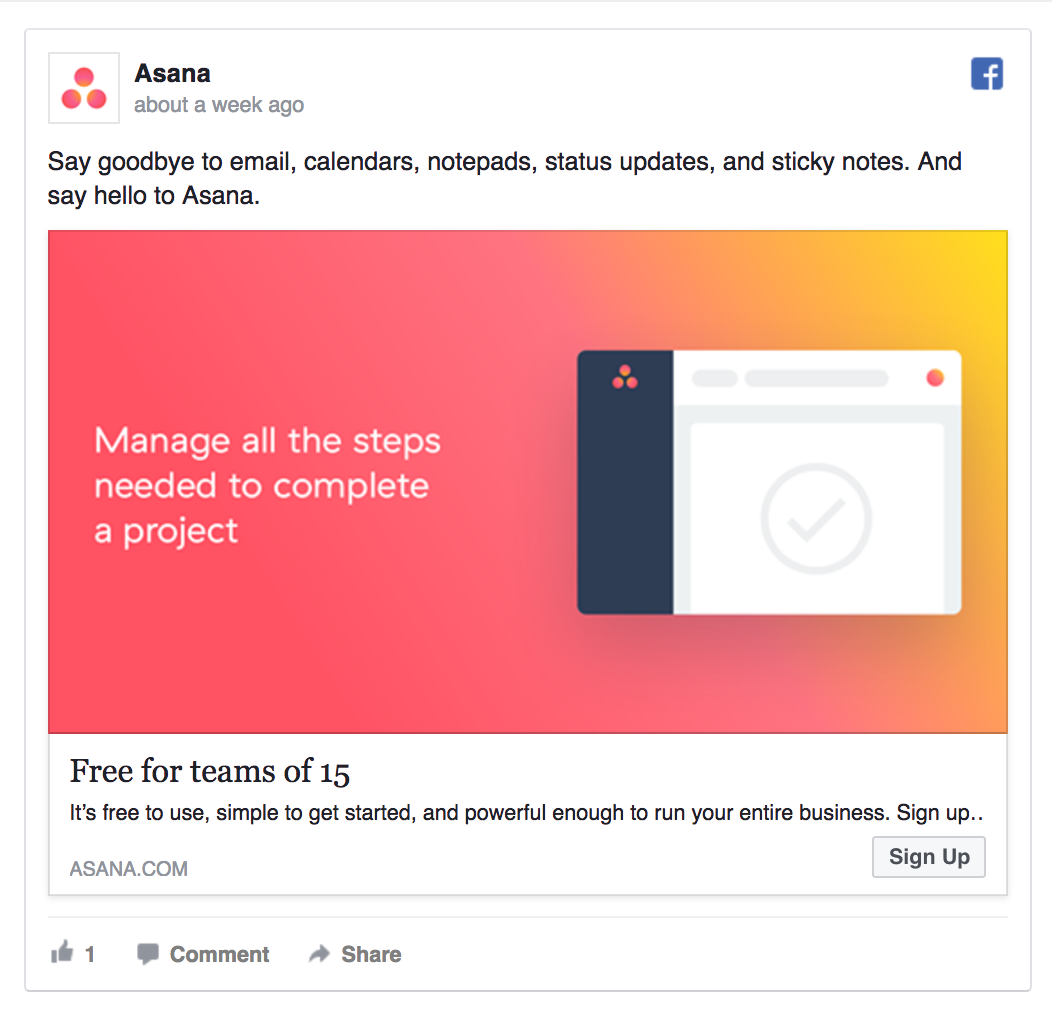 (Via Asana)
As with social posts it can be tempting to grab the first thing you find on Unsplash, or use existing company photos but the fact is that people scroll their social feeds at a lightning pace so bright, clear images are all that's going to stand out.
This example from Asana, who excel in this respect, is a great use of colour, design and copy. There's no mistaking what it's about and it stands out beautifully against the clutter of the Facebook interface on both desktop and mobile.
8. Test All of the Above with Video
By now you're probably getting the emphasis on this being one big experiment. That's because different people react to different things - different images, colours, copy sentiments, placements and so on. Likewise some people react really well to video and we want to reach those people too, though your first thought is likely something about how much harder video is to produce.
Fortunately we're seeing a slew of genuinely idiot-proof video creation tools hitting the internet, with free versions as well as more powerful (or less restricted) paid plans. Here are some favourites to try:
If you follow these guidelines you'll have better ads and lower CPAs in no time. Just remember - there are no rules, only the target audience for an ad sees that ad so take some creative risks and have fun.
Will Francis is the Creative Director and Founder of Vandal London, Social Media expert and tutor in the IDM Award in Content Marketing.
Did you find this blog useful?
At the IDM we are passionate about educating marketers and providing resources to help advance your career.
If you are interested in enhancing your CV and upskilling, browse through our wider range of marketing courses and qualifications; from one-day short courses to post-graduate diplomas.
Our learning and development team will be happy to advise based on your needs and requirements.