The way we buy and sell media has changed significantly, from the early days of publishers and advertisers trading directly through a handful of large sites on a flat rate with little targeting and insight regardless of time of day, through to traffic being sold through ad networks and exchanges using an auction type model in real time bidding and now we have a programmatic which has the ability to automate the whole media buying process across a wide range of digital channels.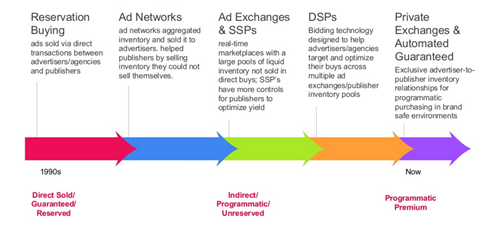 Step 1: What is Programmatic?
Programmatic media buying, enables marketers to target different audience types to meet campaign objectives. Using a range of segments such as demographic data including age, gender, social beliefs to geographic and location. In the same way as Paid Search marketers can restrict ads to time of day and frequency caps. Advertisers can choose which publishers to use to target prospects. Essentially marketers only pay for highly targeted and effective ads, by reaching audiences at the right time. So very different from traditional or above the line media buying. Programmatic removes the administration and manual process such as running a certain number of ads or locking publishers into a contract, for the simple reason there are far more sellers via programmatic from broad to niche based traffic.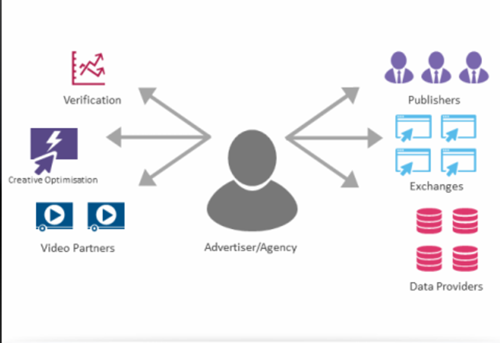 What two problems is programmatic solving?
Process automation, RFPs, Insertion orders, pricing negotiations, any back-and-forth between buyer and seller
Advertising efficiency, targeting audiences, based on a range of criteria, for example geographical, demographic, and behavioural with the ability to optimise in real-time.
In theory programmatic media buying allows marketers to do this...
The right ad
To the right users
At the right time
In the right context
At the right price
How important is Programmatic?
Media budgets continue to shift online and a growing trend is online budgets are moving more into Programmatic Media Buying, according to eMarketer by 2019, the total UK spend on programmatic advertising is expected to more than doubled from £1.99bn in 2015 to a much larger £4.52bn. This will account on average for 80% of digital media brought programmatically.
In the UK 4/5 of display advertising is being traded programmatically, due to the ability to reach targeted audience efficiently.
The share of programmatic direct is growing significantly as advertisers search for the most relevant audience with the propensity to buy, even it means paying a premium cost for the media, versus indirect, where media is highly competitive and traded on an auction basis.
Step 2: A data-led approach
Since the early days of the internet, brands have been collecting vast amounts of data on prospects and customers via online platforms such as social and websites, it is therefore not surprising marketers find it difficult to understand which data is important and which data is less important to support their goals and objectives.
First Party Data
This is the most powerful data of all, data collected directly from your customers, this could be from websites, registration forms and competitions, it's the most relevant and accurate, providing a more detailed picture of the target audience.
I cannot stress the importance of first party data this is what makes programmatic media buying unique to the advertiser. Using this approach provides a great opportunity to retain customers, upsell and cross sell. Advertisers can also understand what their audience actually looks like and then target of the back of this new insight.
Positives
Belongs to your brand
Unique
Less regulated
Negatives
May be limitations in terms of depth and scale
Second Party Data
Relatively new form of data collection. Essentially another company's first-party data that is collected and sold to an advertiser, for example a high street retailer may sell its loyalty card data to a FMCG organisation who doesn't have a direct to consumer proposition and relies on distribution networks both on and off line to sell its products and services.
In theory 2nd party data enables brands to exchange data with each other in situations where it benefits both parties.
Most often from other brands whose data sets might compliment yours and vice versa, as mentioned above, and usually under a pre-determined and defined agreement.
Positives
Can add depth and further meaning to existing first-party data.
Negatives
Potential integration issues.
Can be limited in availability compared to first-party data.
Data partnerships can sometimes bring complications with them
Third-party
This is your standard, bargain basement data, data you can buy pre-collected from an external source, if you receive an email from a company you've never heard of, it's very likely your data has been sold, this source of data will be heavily impacted by the GDPR where heavy fines are issued for non-opt-in communication.
Positives
Readily available
Wide-reaching
Negatives
Quality can vary wildly
Not unique
Can be costly
Higher risk of breaching data regulations
Using customer data effectively enables the marketer to segment based on where in the lifecycle there customers are, enabling marketing to deliver a relevant and targeted campaign experience. Using test-and-learn overlayed with performance data, will help the organization to continually inform and develop its customer profile and segmentation and targeting capabilities.
Step 3: Programmatic platforms
Programmatic is a technical process enabling brands and advertisers to reach their audiences in the most efficient way possible. Ad networks and exchanges still remain, with the introduction of demand and supply side platforms to automate the buying process and deliver greater reach to the advertiser.
The Buy / Sell Ad Model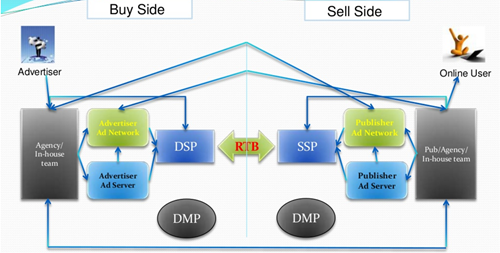 DSP (Demand Side Platform)
A DSP is a platform that allows buyers / advertiser to buy inventory in a fully automated process, through various ad exchanges and data exchange accounts, to help advertisers to buy media such as display, video, mobile and search ads. Because a DSPs automates the process, marketers can often achieve cheaper and more efficient campaigns, as media buyers use an interface called RTB (real-time bidding) similar to an auction to bid against other advertisers to reach a particular audience.
DSPs target specific users based on a brief and prospect information such as location or more detailed information such as browsing behaviour. Publishers will make their ad impressions available and in some cases specify which advertisers they allow to buy bid on their inventory through ad exchanges and ad networks. The DSPs decides which impressions will deliver the advertisers campaign brief.
Real-Time Bidding
Real-time bidding is often confused for being programmatic, it is part of a wider process, essentially it is the buying and selling of online ad impressions using real-time auctions that appear in the time it takes a webpage to load. These real-time auctions will facilitate ad exchanges, ad networks and supply-side platforms.
The price of impressions is determined in real time based on what buyers are willing to pay, think of your eBay account, hence the name "real-time bidding." The process takes place in milliseconds, as a user's computer loads a webpage.
Supply-side platform
A supply-side platform (SSPs) are used by online publishers (traffic owners) to assist in selling ad space for display, video and mobile ads.
The platform is equivalent to a DSP but on the supply side, therefore maximizing the prices their impressions sell at.
Data Management Platform
A data management platform is a 3rd party software that collects, sorts and stores a range of data and then sorts the data that is useful for marketers, to use for their future campaign.
DMPs can help bring all the activity and results plus audience data together in one place. It is in the DMP marketers optimise for future creative and media, ultimately the DMP brings the marketer closer to all the customer touch points.
Step 4: Ad Fraud
Ad fraud is probably the least understood yet has the biggest impact on digital marketer's campaign decision making and budget optimization.
Marketers will typically makes decisions based on analytics platforms such as Google and Adobe, how what they don't tell you is if this audience were human eyeballs and not bots. A poor performing campaign may not be a creative issue at all, simply the traffic is not genuine.
Juniper Research estimates that advertisers will lose $51 million (£36.5 million) per day on ad fraud in 2018, totaling $19 billion (£13.6 billion) over the year. 50/60% of ads are viewed by humans over 25 ad fraud categories and growing, most vendors are only in a position to prevent 7-9 of these.
The common types of fraud can be seen below:
Site Bundling
In RTB, traffic is classified by a site ID and each site ID is assigned to a single domain.
Many publishers and ad exchanges bundle entire networks / websites of domains under a single site IDs. This means an advertiser might think they are buying traffic on premium site but actually they end up with ads served on a completely different site which may conflict with the brand.
Arbitrage
This can take many form and impact various formats, for instance display and video.
Basically fraudulent publishers purchase traffic for a super low cost and resell it for a multiple of the price. For example, a publisher may sell its inventory for £3 CPM on average but could well be purchasing suspect traffic to its site for a tiny fraction of the cost.
Botnets
Botnets are a large array of personal computers that have been compromised by fraudulent users. The fraudster completely control of these devices, programming them to load and click on ads, which generates legitimate-looking, but completely fake, impressions and clicks for advertisers.
What are the steps to overcome ad fraud
Education: One of the biggest blockers to the industry winning the fight against on line fraudsters is 'lack of understanding' it's no longer enough for advertisers to reply on their agencies to tick the fraud and brand safety box, advertisers need to understand the ins and out of ad fraud, once they understand it, they will then understand why it's so important that they take control of it.
Accountability: Once you understand how ad fraud works and why it's not as simple as putting a black list in place, it time to be accountable. It's your brand, and you money, no one is going to care about it more than you, no matter how much you're paying your agency.
Challenge the media agency: If your agency are providing you with top line reports, push for more. If your agency are telling you that you're protected from ad fraud, question exactly why, ask to see the data. Meet with your agency and their preferred verification vendor.
Do your own research: Research verification vendors and select the ones to review that can offer all three pillars of verification- fraud, view ability and brand safety.
Invest in a 3rd party vendor: Work with a 3rd party verification vendor to audit a portion of your traffic. Discover what your true viewabililty is when non-human traffic and fraudulent activity is taken into account. Don't you want to know what % of your budget is actually going towards human eyes?
Ignore the 'minimum requirements' set out by MRC and Iab. Ask for more: The current industry average for brand safety is 10-15%. Is that good enough? No. There are advertisers who have a brand safety of 0.2%. The average view ability is 45%, ask for me, you can get 80-90%
Take control and optimise: Partner directly with a 3rd party verification vendor that can provide you will actionable data to optimise against.
Step 5: GDPR
The greatest change in the last 4 years to impact digital marketing and programmatic is the General Data Protection Regulation which came into force 25/5/18
What is GDPR
GDPR is a new regulation to give customers more control or access of their personal data, this applies to all companies that control or process personal data of EU residents, regardless if the company is located outside of the EU. Essentially marketers have to understand how data was obtained, how data is managed, and how personal data is processed.
Transparency is ultimately the greatest change for companies, they have to be explicit as to how they plan to use personal data, getting customer opt-in consent. If a company wants to share customer data with 3rd parties then they have to highlight all of the 3rd parties that potentially will receive such data, if companies don't comply then they risk heavy fines, 4% of annual global turnover or up to €24 million whatever is greater.
How will GDPR impact Programmatic?
As mentioned above companies need consent from individuals for 3rd parties to track online behaviour for targeting relevant ads. Therefore marketers will have to shift their efforts to focus on segments. For example, marketers could advertise to women who live in London, shop at Selfridges and buy coffee at Starbucks, since there thousands of women who fit that description. But under GDPR, they couldn't legally add filters so specific that the target audience is narrowed down to an individual woman without explicit end user permissions.
This also means retargeting is impacted, instead of remarketing to an individual woman, which isn't allowed without consent under GDPR, marketers could simply track campaign identifiers alongside a counter on a user's browser, where no personal information is involved.
Advertisers will need to pay close attention to where they get information and which partners they trust to comply with GDPR, if a breach happens, everyone involved is liable.
To learn more, attend Andy Letting's one day Programmatic Marketing: Essentials training course, which will give you a comprehensive understanding of programmatic and how it's changing the world of digital marketing.
Did you find this blog useful?
At the IDM we are passionate about educating marketers and providing resources to help advance your career.
If you are interested in enhancing your CV and upskilling, browse through our wider range of marketing courses and qualifications; from one-day short courses to post-graduate diplomas.
Our learning and development team will be happy to advise based on your needs and requirements.