Follow headline after headline in the marketing press and we find ourselves being informed of new approaches, new technology, new platforms, new customer attitudes. Markets are apparently changing almost overnight. Millions of years of human evolution is being eroded by new marketing concepts changing how humans interact. Agencies and clients alike look to understand, justify, implement and make sense of all this new new new.
All too often in many marketing departments two things are happening driven by all of this change and constant noise.
1. Metrics can become removed from key commercial drivers
There are many things we can measure in marketing and the list grows almost daily. With so much to measure in so many different ways, sometimes the fundamentals, and therefore key business drivers can be neglected. Are the things we measure supporting areas of business such as:
What is the market potential?
What is our product penetration vs our competition?
Are we making a profit or loss?
What marketing mix is effectively influencing our prospects and customers?
What is our Return on Marketing investment?
Campaign metrics especially those driven by digital investments are very useful to discover what works best to drive customer action, but is this action leading to revenue against the bottom line?

The reality check that we are measuring the right things can come with a crash when meeting with the Finance Director or bidding for new funds for an initiative. Budgets are rarely doing anything these days other than going down or at best remaining static. If we don't have the right numbers to justify investment then someone with better numbers could get the money.

By linking marketing activity to the commercial objectives, we need to be asking the following of our customer understanding: -
How much does it cost to acquire a customer and how much can I spend?
How long do they stay for and what is their value overtime as a customer?
Which customers are profitable and which are not?
With this historical information marketers can plan their marketing to deliver the right type of new customers that will make money for the business, and initiatives to keep them for as long as possible and help them spend more.
2. The second thing that can happen is that there is no time to budget and plan properly
Marketing departments are often swamped with getting activity out of the door and there is often little time to look at the metrics in any detail. This can have a real impact at key decision making times such as budgeting and planning activity for the year. There are a number of ways to set budgets but the three most common are: -
1. Rule of thumb
Setting a budget based on experience and knowledge

The danger with this approach is that this thinking can easily lead to the same assumptions about customers as well. Only thinking we know what is going on, and not relying on hard facts and figures can lead to very expensive mistakes in this fast-paced world.
2. Resources approach
This approach starts with the amount of money available and then funds are allocated across departments and activities.

The very nature of this budgeting, whilst easy to manage can generate a culture of 'do what you have always done, get what you have always got' thus making it difficult to embrace some of the new opportunities available through technology and applications.
3. Task approach
Look at the strategic and financial goals of the company or the brand. What are the company's goals in terms of market share? Funds are allocated against these goals and therefore budgets can change dramatically year on year.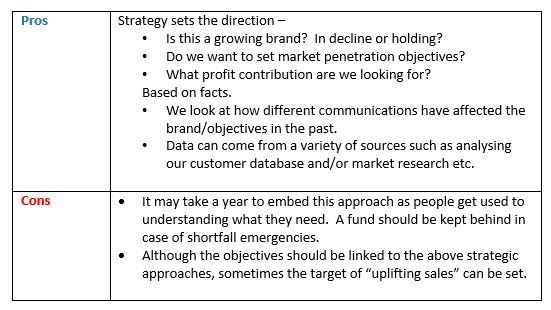 Each budgeting approach will depend on the company's maturity and the culture driving innovation, change, and the rigorous approach to spending company money with a view to delivering more profit.
No approach on its own is necessarily the right one, but the closer a company can get to a bottom up approach linked to strategic goals the better.
A blend of approaches can look to maintain a stable ship, whilst allowing teams to explore innovation with technology and approaches. At Coca Cola budgets are split 70% established programmes, 20% on new emerging trends, and 10% on ideas that have not been tested. Thus, new concepts can be explored without damaging the core business. The ultimate question though, is would you continue what you are doing if it were your money?
Do you need more help understanding the maths of driving the right marketing behaviour? The IDM offer a one day Budgeting for Marketers: Essentials course, an introduction to the numbers that underpin direct and digital marketing.
Did you find this blog useful?
At the IDM we are passionate about educating marketers and providing resources to help advance your career.
If you are interested in enhancing your CV and upskilling, browse through our wider range of marketing courses and qualifications; from one-day short courses to post-graduate diplomas.
Our learning and development team will be happy to advise based on your needs and requirements.