Keyword research is an essential part of the SEO process.

However, There's one stage of the keyword research process that can either spark your SEO strategy into life or send you spiralling down into a keyword oblivion.
It's called Barnacle SEO.
What is Barnacle SEO?
The term and concept were popularised by Rand Fishkin back in 2014 during one of Moz's Whiteboard Friday episodes.
In short, the Barnacle SEO approach is about gaining visibility for your brand on sites that already rank for relevant keywords as opposed to you trying to rank for those keywords using your own website.
It sounds simple, but I often see this approach overlooked.
Understanding Barnacle SEO can lead seamlessly into content marketing strategy which is why it's so important to grasp its potential function following keyword research.
How to approach Barnacle SEO
Let's imagine for a moment you're working for a company that makes beds, and you've just undertaken a couple of days' worth of keyword research.

You're in the process of reviewing keywords, and you come across the following:
Best luxury beds
Best beds for bad backs
Beds for side sleepers
You might consider these keywords relevant to your users, but the question to ask yourself is:
What is the perceived intent of this query by the search engines?
Or in other words, what types of content do search engines think people want when they are searching for this query?
One of the biggest mistakes I see is where vanity takes over, and a business feels like they have to rank for any keyword remotely related to their business.
In short, they forget user intent.
For some keywords, it doesn't matter how much you want to rank for a keyword. Your efforts are going to prove fruitless if you haven't considered search intent.
For example, this is a breakdown of the first page of search results for the search query best bed for bad backs:
First, we have a featured snippet followed by a People also ask box.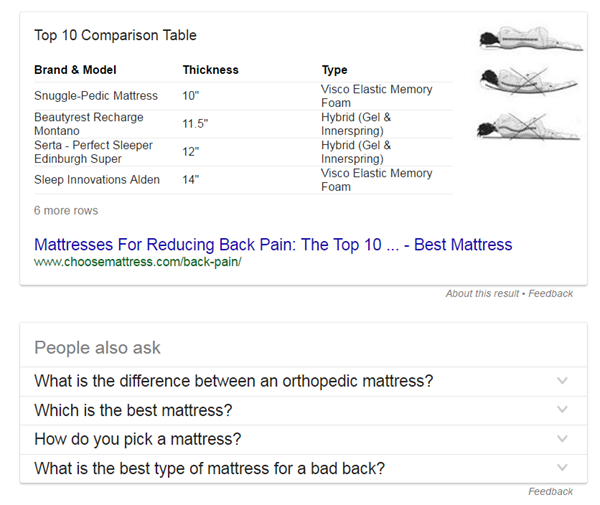 The next ten organic search results are then all information orientated search pages from informational websites. Not one organic result is from a brand or is transactional in nature.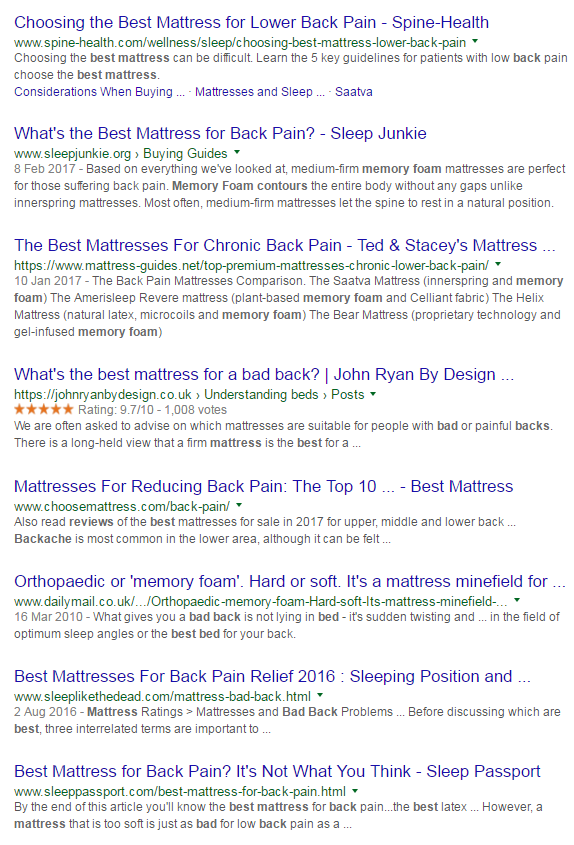 This is where Barnacle SEO comes in.
Going back to our example, if you were a company selling beds, rather than attempting to rank for a query that's clearly informational in intent, wouldn't it be more useful to try and get your brand featured in one or more of those existing results?
This isn't to say that if you're an e-commerce site, you can't rank for informational queries.
However, when users are searching for these types of informational queries, they aren't just looking products to meet their solutions. They are looking for a degree or trust and impartiality that is almost impossible for an e-commerce brand or retailer to replicate.
As a business, you have to ask yourself: Is this level of trust and impartiality something we can offer, or is it best to leverage this trust through influence?
Conclusion: Why is Barnacle SEO Important?
The term SEO does not have to explicitly refer to what's happening with your own website in organic search.
Don't waste your time trying to rank for keywords for the sake of vanity.
Instead, start by focusing on keyword intent and let this be the catalyst for broadening your digital marketing strategy.
Getting a grasp on the Barnacle SEO approach can help give you a more well-rounded understanding of what's happening in the search results in your industry and lead seamlessly into content marketing or influencer marketing projects.
If you're interested in developing your SEO skills, check out the IDM's Search Engine Optimisation (SEO) course.
Did you find this blog useful?
At the IDM we are passionate about educating marketers and providing resources to help advance your career.
If you are interested in enhancing your CV and upskilling, browse through our wider range of marketing courses and qualifications; from one-day short courses to post-graduate diplomas.
Our learning and development team will be happy to advise based on your needs and requirements.