How in 2018 brands are beginning to understand that stories are experiences not lectures.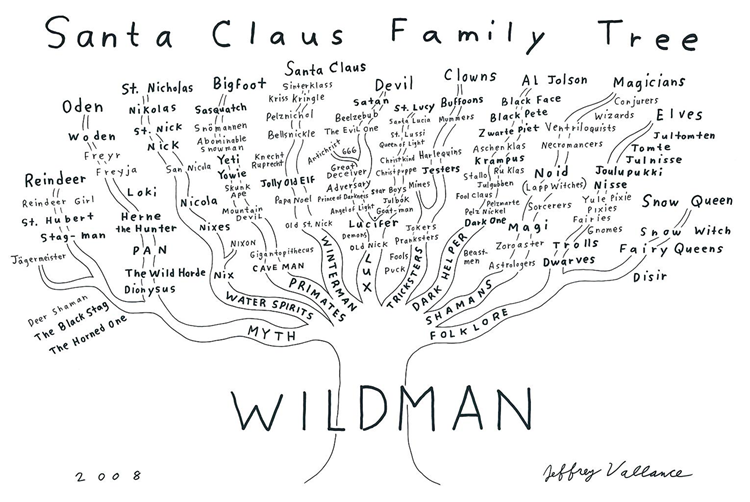 I love this genealogy of wildpeople created by the artist Jeffrey Vallance. As you climb the branches you can explore folklore, imagination, myth, darkness, wonder and humour to create your own story to suit your mood. Random connections become meaningful interactions and unusual juxtapositions generate exciting new possibilities.
This is how storytelling developed in the beginning, an oral exchange of ideas and expression that was added to and developed into personal narratives by the teller and their audience. As the individuals changed in make-up, culture, time, and place, the story was adjusted to suit their situation and appetites. Storytelling at its best is never the same - it is a unique shared experience mutually created by the situation and participants.
For many years brands have understood and tried to emulate the power of stories:
"Tell me the facts and I'll learn. Tell me the truth and I'll believe. But tell me a story and it will live in my heart forever." - Native American Proverb
Brands wanted that emotional connection to build trust, to encourage loyalty, to enable them to differentiate themselves from their competitors and find a place in their customers' hearts.
Some brands have done a pretty good job, but many spew out an endless stream of facts, information and benefits in a bid to encourage us to buy. For the latter, there is no excuse.
Digital storytelling enables us to create a continuous virtual story-making experience. It allows brands to go back to the roots of storytelling to mutually create a journey of discovery. There are some great examples already: LUSH, Burt's Bees, Toms, Graze and Airbnb, understand that their purpose and beliefs are shared with their customers and together they can build the chapters that make up the story of the brand. Without their customers' experiences, and the shared moments they create, there is no brand story, just a lecture.
These brands build strong and sustainable businesses. Their customers are passionate advocates, loyal and outspoken. The brands trust their customers to build and enhance their stories via content, events and social media. They understand that by allowing the brand to be part of their customers personal narrative, strange and unplanned moments may happen but, their own story is stronger and more believable.
In 2018 the clever brands will scrap the stories they tell, and create places for shared experiences to develop.
Hear more from Julie on one of her IDM qualifications such as the IDM Professional Certificate in Social Media. Become a qualified social media expert with the skills to deliver a robust social strategy that delivers measurable results and ROI.
Did you find this blog useful?
At the IDM we are passionate about educating marketers and providing resources to help advance your career.
If you are interested in enhancing your CV and upskilling, browse through our wider range of marketing courses and qualifications; from one-day short courses to post-graduate diplomas.
Our learning and development team will be happy to advise based on your needs and requirements.