Data and marketing is a fast-evolving landscape, and growing what you know is vital. So what's the best learning solution for today's busy marketer? We believe the answer lies online – and a learning environment that puts you in charge.
Eight out of ten marketers say that they prefer face-to-face learning, but one third of you are satisfying your learning requirements online.
There are many things that can come between marketers and face-to-face learning, leaving online as the most feasible option in many circumstances.
Some key issues that limit face-to-face training include:
Finding time to get out of the office
Limited opportunities to find local face-to-face training
Soaring costs
How to fit learning around busy home and work lives
So, why are marketers in general not so keen on online learning?
What are the challenges facing online learning?
With online learning, it can be a challenge to self-motivate as too often material is presented in an uninspiring manner, which results in a poor customer experience.
As marketers we are challenged to create engaging content for customers and clients. Therefore being faced with course material that lacks visual and narrative appeal can be frustrating.
At the IDM, we have sought out marketing learning gaps that needed to be addressed. By gathering real-world insights we challenged ourselves to build online courses in two key subject areas marketers seek to build their knowledge in: GDPR and Social Media.
Our online courses: IDM Award in GDPR
One in five marketers still haven't had sufficient training to comply with the GDPR.
Knowledge around the GDPR seems to have slipped between 2018 and 2019, with only 35% of marketers stating that their organisations have a good knowledge of the GDPR.
The downward trend is marginal but the overall picture is still less than ideal, with 65% of organisations having moderate to no knowledge of GDPR, as you can see in the chart below.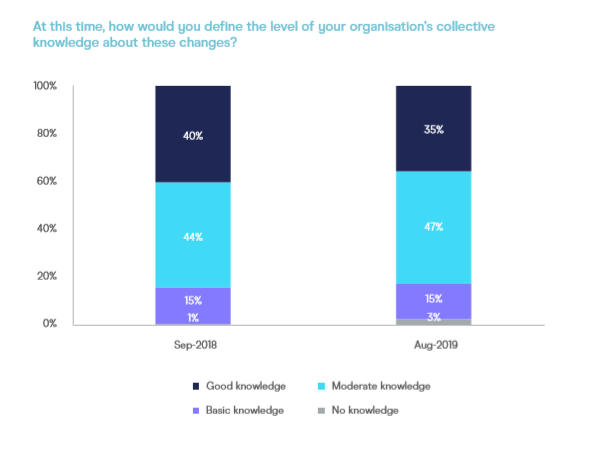 When we look in further detail at the situation there are some alarming findings.
The DMA's 'Data Privacy: An Industry Perspective 2019' report also highlights the dearth of preparation amongst the UK data and marketing community.
A fifth of marketers (20%) say their organisations are not implementing ongoing training plans, thereby putting their businesses at risk
18% of marketers say the GDPR expert they were trained by didn't have the right experience in marketing
One in 10 (9%) saying their training hasn't been practical enough
But the majority of data and marketing professionals have been given some form of GDPR training, they have accessed the principles of the regulation, and have tackled the arguments as to why we must respect consumers' data.
So what's missing?
Practical application.
When marketing teams formulate integrated marketing campaigns and collect, process and segment sensitive information, they need to understand their responsibilities and how data can be a huge asset to the business.
And most importantly how they can protect the customer and build trust.
It is one thing understanding the legal underpinnings to GDPR. It's a totally different challenge to translate that into actionable best practice in marketing strategy and data plans.
Dedicated, applicable learning is crucial, and that's what the IDM Award in GDPR delivers via the DMA Hub.
Our online courses: Professional Certificate in Social Media
The IDM's 'Business Skills Census 2019', asked marketers to identify the skills and challenges that are important to businesses today, as well as those that will be in the future.
From a total of 33 skills investigated in the research, several skills were deemed less important to current business success by the majority of marketers, 'Social media' (46%) and 'Direct marketing' (40%).
However, when asked what skills will be important to the future success of their business, both 'Direct marketing' and 'Social media' saw the most significant increases noted in the survey, rising to 86% and 88% respectively, highlighting their importance in the future.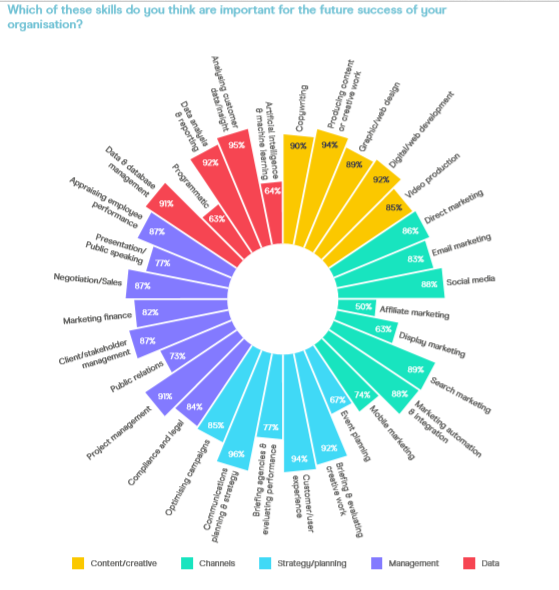 Our take on the findings is that, as more of us identify as digital natives social media becomes an integral part of the lives of the majority of the general population.
And within that, the role of social media will essentially become multi-faceted: a source for daily news, peer-to-peer communication, a complaints platform, and most importantly a valuable medium to interact with your favourite brands.
Introducing: DMA Hub
For the last six months we have listened to marketers, to our IDM and DMA community, and built a new online learning solution.
The DMA Hub is the digital home to an immersive, interactive multimedia learning experience – a place where we host our learning content, course material, video and practical exercises.
We have revamped our IDM learning philosophy as a framework for each of our online courses, with a focus on learning that is interactive, practical and engaging.
Take a closer look here at the background of the DMA Hub.
Did you find this blog useful?
At the IDM we are passionate about educating marketers and providing resources to help advance your career.
If you are interested in enhancing your CV and upskilling, browse through our wider range of marketing courses and qualifications; from one-day short courses to post-graduate diplomas.
Our learning and development team will be happy to advise based on your needs and requirements.