Over the last 20 years, the way customers find and consume information has changed rapidly. Our expectations have increased dramatically as we have become used to being able to search, find, book or buy what we want instantly.
Websites, in the wider sense, have been central to this change and all businesses, large or small, B2B or B2C, have taken their online presence seriously and delivered an online or user experience which makes their websites, apps and digital tools both intuitive to use as well as engaging.
User Experience (UX) has become a popular term, even up to board level. But it is one which is widely misunderstood.
My favourite definition of UX, which is actually now 10 years old, is by UXmatters.com who define it as:
"User experience refers to the quality of experience a person has while interacting with a specific design. Unlike brand experience and experience design, which refer to explicit and concrete things, user experience is contextual and malleable."
UX is about two things:
How a person (a customer or prospect) feels while they are using the website, and
The context of their visit – what did they want today and did they achieve it?
One of the biggest misunderstandings, or confusions, is the difference between UX and Usability. Although Usability is a cornerstone of UX, there are three others we need to consider when designing the user experience: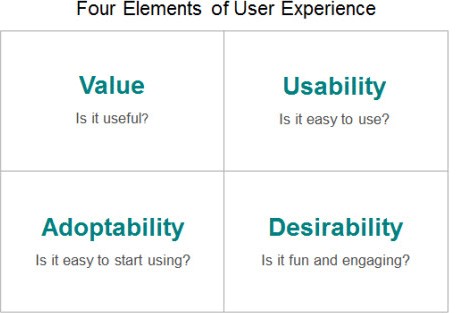 Usability and Adoptability are the answer to the question:
"How do I make my website, app or tool intuitive to use?"
By designing websites that work in ways we are familiar with, for example having the shopping basket top right, menu at the top of the screen, and ordering the log in boxes, Username and then Password, we create interactions which people instantly understand and know how to use. That isn't to say we can't learn new ways to use websites or apps. Tinder first introduced the swipe left and right interaction, which was easy to learn (to adopt) and has now become a standard.
Websites which are not usable, or hard to learn will instantly turn users away, but UX is not just about getting from A to B, it's about how you felt as a user. That is where Value and Desirability come in.
To design a great UX, which will also achieve your own goals we need to find the right balance – the value exchange: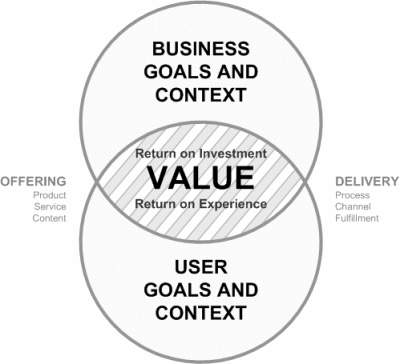 Through research and analytics we can discover what the most relevant content to each person is, through machine learning and AI we can take personalisation to new levels and find this balance which delivers both ROI for the business and ROE for your customers and prospects.
But, as in many areas of life and business it is not just what you say, but how you say it. Websites are an immersive experience and we need to design them in that way, understand the journeys and deliver content through text, animation, video and now even voice (with the rapid growth of Alexa, Hey Google and Siri).
The digital world is changing rapidly, but if you want to stay ahead and understand how to shape and design your user experience to deliver a greater return from your website, avoid common mistakes or just learn more, then join the IDM for a User Experience training course.
Did you find this blog useful?
At the IDM we are passionate about educating marketers and providing resources to help advance your career.
If you are interested in enhancing your CV and upskilling, browse through our wider range of marketing courses and qualifications; from one-day short courses to post-graduate diplomas.
Our learning and development team will be happy to advise based on your needs and requirements.