With a dizzying array of options from humorous videos to white papers it's hard to know what's right for your brand, and most importantly your audience. This is where content gap analysis, is crucial - showing you where to make a start in your quest to become a truly great content brand.
What Is Content Gap Analysis?
Simply put, your content gaps are the topic areas you could be receiving traffic and engagement for, but currently have no content in. Many content marketers still go through the simple process of brainstorming new ideas and then executing on them, and whilst this appears to allow unlimited creative freedom, it often results in one-dimensional, sales-focussed marketing that no-one is interested in.
Smarter marketers understand that this approach is precisely about finding out what our audiences are interested in, and serving them that content in relevant places.
A key thing to remember is that in content marketing, that which you produce and put in front of people must be value-driven - providing genuine benefit to those who enjoy it, not forcing promotional material into their digital lives. People will respect you for the former and resent you for the latter.
Where Do We Find Content Gaps?
There are two angles from which to look for gaps:
1. Customer Journey & Content Types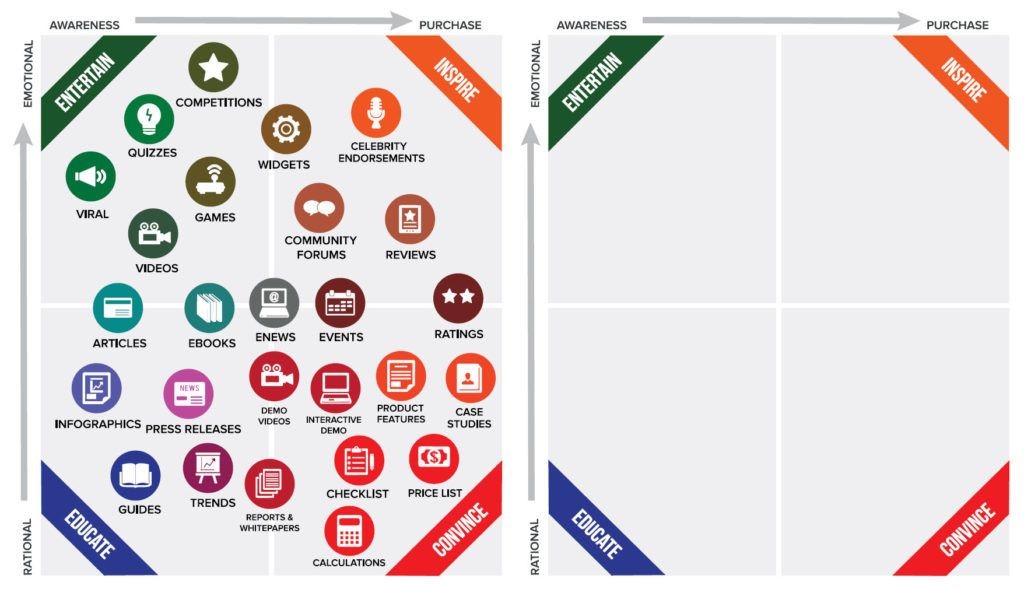 Different content types serve the various stages of the customer journey more appropriately than others. The above content matrix from Hubspot is a commonly used framework for identifying at a high level what content types you should be thinking about. This serves as a good starting point to shape your ideas and move onto the next step.
As we can see above, certain content types are more suited to generating initial awareness, some for that next level of engagement and relationship-building, whilst others are well-suited to directly driving purchase. These are mapped left to right to represent the customer journey.
The vertical axis represents content that appeals to different types of customer, from rational to emotional. This consideration is just as important throughout our marketing - remember that you're always talking to a broad range of people, made up in very different psychological ways. People respond to different content hooks so take this into account when developing new ideas.
An exercise on the IDM Content Marketing courses uses the above matrix, with the left-hand side being an example of what content typically goes where, though it's not a hard set of rules. We then simply fill in the blank matrix on the right with our current content marketing activity to see where there are gaping holes, and ask questions like "should we do a podcast?", "how?", "why?". This is an invaluable first step in content planning, helping us explore which activities could be of value to the business.
2. Content Topics
The more detailed and time-consuming part of this process is finding topic areas we aren't present in but should be. There are many ways to go about this, but a straightforward approach is to simply research some key channels to find existing content, and find out what our audience is actively looking for in that subject.
Content Research
You can perform content research manually without any tools or software, but realistically you will save a lot of time and effort by using free or cheap services. My personal favourite currently is BuzzSumo. There is a free trial version with no signup required, and then reasonably-priced paid tiers with more features.
Let's take a look at content research with BuzzSumo.
Most Shared Content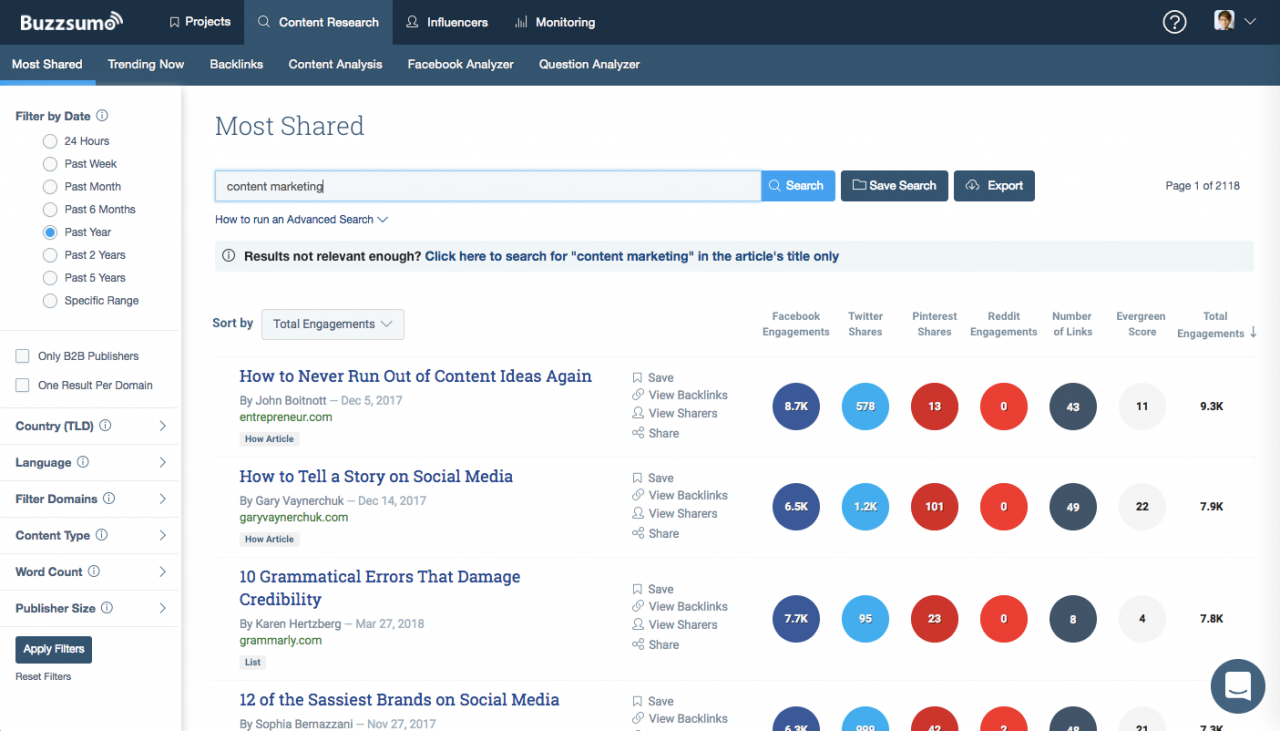 This is simply the content that has received the most social shares and backlinks, for that topic. You can (and should) experiment with being broadly general but also very specific by using search operators:
- dogs -cats - shows content about dogs, omitting anything with cats in
- cats OR dogs - show results for both cats content and dogs content
- "ginger cats" - specifically shows content with that exact phrase
- domain.com - see the most shared content on that site, or enter a full URL to check just that page
- shared:@willfrancis - see the most shared content, shared by that Twitter user
The questions you'll answer here are: - what are the most popular angles on my topic?
- who is publishing articles, blogs and videos around the subject?
- who is sharing this content on Twitter? Click 'View Sharers' next to each item to see this, giving you an insight into the key people in a topic area. This should form your target list of influencers to whom you will later seed your own content.
You can use a basic version of this feature for free without signing up, right from their home page. Other features for members include trending content, analysis of where and when content in your target topic is shared and analysis of Facebook posts around your topic.
Q&A Sites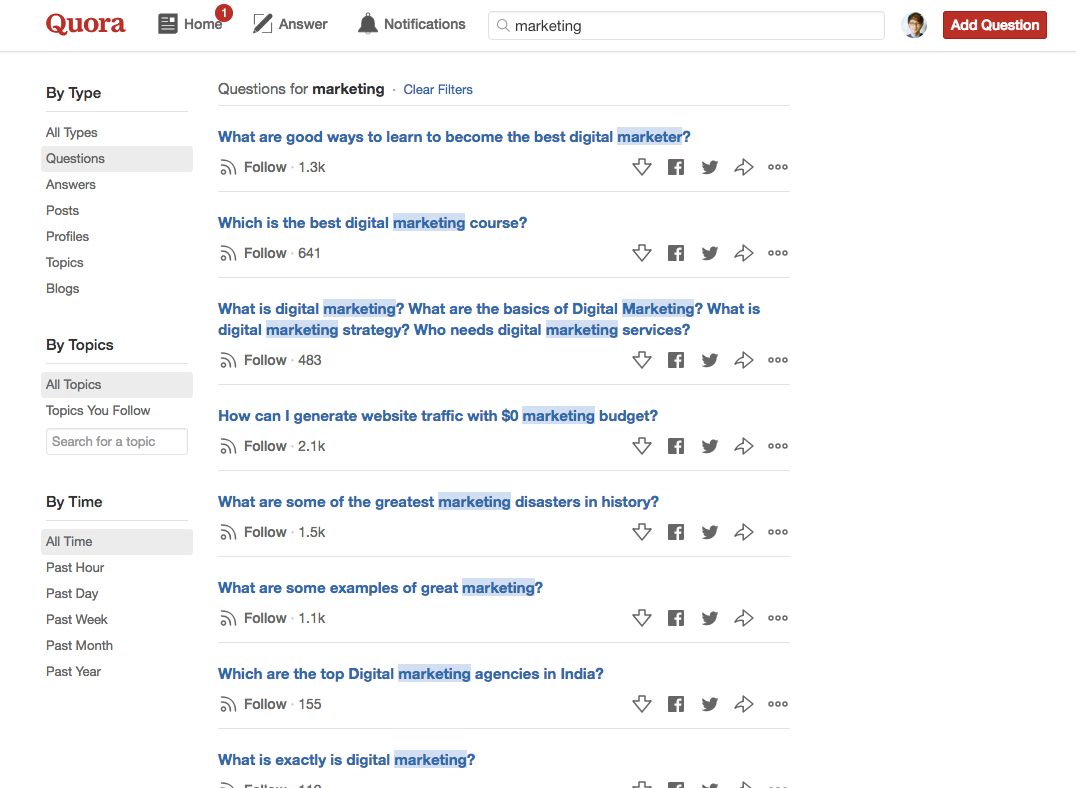 Another valuable source of content ideas is question sites, the most well-known being Quora. This is a great way to identify the knowledge gaps of your audience, to see what sort of information they're hungry for. Reddit and other large forums such as Mumsnet and Money Saving Expert are great for this too. If you can spot commonly asked questions or areas of concern you have your next content idea.
Keyword Research
Finally, we'll do some basic research into Google search terms relating to our topic. There are two great tools for doing this in different ways - AnswerThePublic and LSIGraph.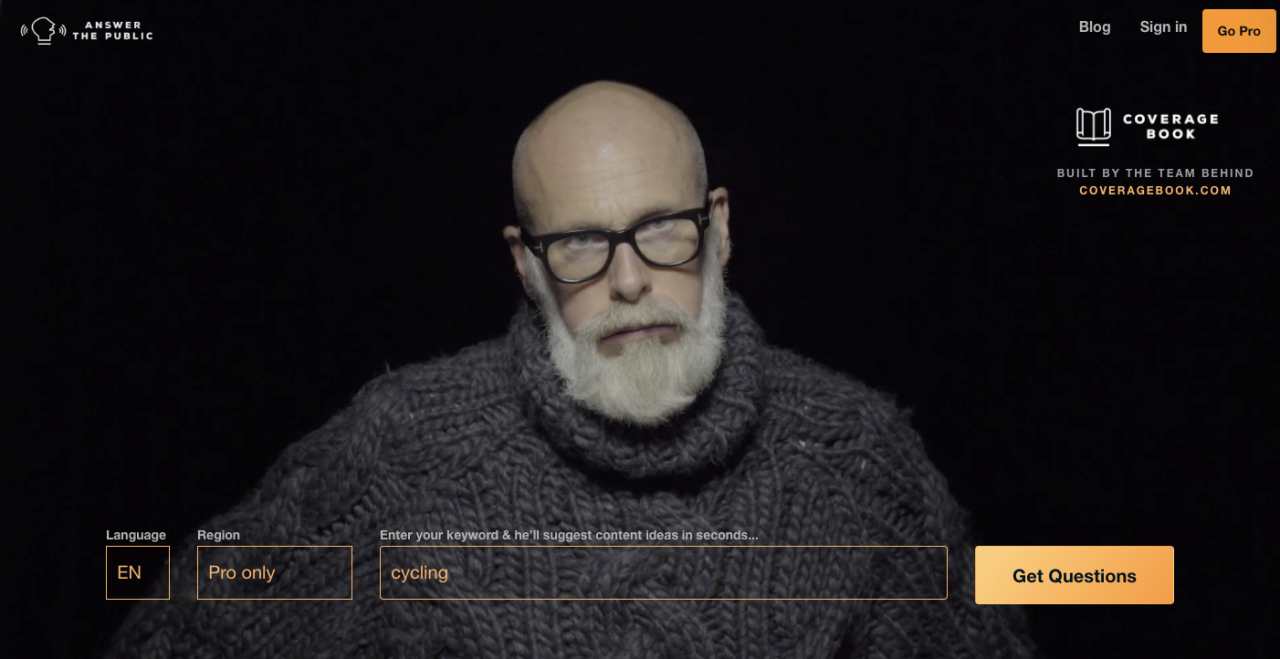 AnswerThePublic takes any keyword and shows you Google's autocomplete suggestions for searches relating to it. It handily breaks these down in ways that are useful to marketers, such as breaking out questions, comparisons and related terms around that keyword.
LSIGraph is a tool which respects Latent Semantic Indexing i.e. how Google understands language and its meaning. This provides a smarter list of related keywords, giving you instant ideas for content. You only have 3 free searches per day but it's cheap to upgrade if you need more.
Using Content Research
There is of course more to this than simply looking at what others are doing and copying it. Whilst there's a place for doing what your competition are already doing, but better, here's where you need to find creative ways to further delve into a topic area. What's coming next or emerging in your space? What's your unique experience of these issues? What would you as a consumer want to see covered that isn't?
Take your content formats from the matrix in the first section and start to brainstorm ideas around Buzzsumo research, and the tools above. In no time you'll have a well-rounded content plan that serves your audience with authoritative, entertaining and high quality content.
To learn more about content marketing, consider the IDM's Content Marketing Strategy training course, or for a qualification check out the IDM Award in Content Marketing.
Did you find this blog useful?
At the IDM we are passionate about educating marketers and providing resources to help advance your career.
If you are interested in enhancing your CV and upskilling, browse through our wider range of marketing courses and qualifications; from one-day short courses to post-graduate diplomas.
Our learning and development team will be happy to advise based on your needs and requirements.